WinAbu is 3 Today!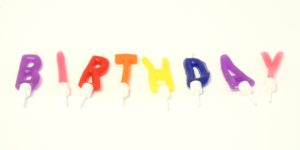 It seems amazing that 3 years have passed since I started WinAbu Consulting.
It's been an incredible journey into self-employment. I've achieved more than I ever thought possible – interesting work, international travel, meeting many, many new people and helping others achieve their objectives. I've also earned a good living from WinAbu – a basic proof of the original idea that I took to market.
When I was 1 (1st anniversary) I posted an article on LinkedIn, reflecting on my experience in the first year. Updating this now for reflections after the 3rd year, as the business "matures"(?), I think I would share the following:
After working with 40 clients, on many assignments, and 160 invoices (and I did start at invoice no. 1) later, I've accepted that I have momentum in the business. I didn't credit myself with this for a long time, as the first assignments came from business acquaintances, and I felt "lucky".
2. Almost all business assignments come from acquaintances. Professional and personal networking are the most important activities. Rarely do you get a "cold call".
3. The more I practice, the luckier I get. I can't attribute winning business to any one thing I do, but I know that I've not stopped meeting people, giving out business cards, following up on leads and promoting the business online, especially via LinkedIn. WinAbu is a social animal.
4. I've found maintaining the WinAbu blog (and therefore the website) difficult – with most of my commentary being posted via LI, it seems to be an additional workload to copy it over to the website. While being reasonably tech-capable, it's hard to make this element work seamlessly. LI Showcase pages didn't work, and weren't worth the effort at all.
5. What does WinAbu do? This piece changes over the years – WinAbu is constantly reacting to market needs, and these needs have changed over the 3 years. Initially there was recovery work after the Recession, both in turning around businesses, and in improving their systems and operations. There was also work in mentoring on entrepreneurship and business start-up.
a)     Now the work has broadened – the domestic practice is "commercial" work with SMEs, and some larger companies – mostly strategic decision making exercises and follow-on actions (acquisitions, disposals, new planning and strategy work).
b)     The international practice (and thankfully a growing Irish client list) is focused on Entrepreneurship and Innovation – teaching and learning, mentoring, actively planning and encouraging – for start-ups and corporates. This has brought exciting opportunities in the UK, the Middle East, and in Ireland.
6. Self-employment isn't easy. Assignments need to be secured, and every month-end invoicing cycle is a measurement of the most recent period's success (or not). There's been times when I could clone myself to get through the workload and other times when the pipeline cupboard appears bare. I've found though that paying attention to working "on my business" while working "in my business" has paid off. Just when you think you're running out of work, the phone rings (usually twice!) and I'm off again with delivery.
7. It's important to talk. My professional group (Chartered Accountant Interim Managers (www.cainterims.ie) and close personal contacts provide the outreach and peer-group to maintain reference points. My wife is the real partner; a quiet evening walk talking through the pipeline – while not being the stuff of dreams – is really important to me, helping to order my thoughts and ensuring I'm on track.
When all else fails, WinAbu has a firmly-established saying: "The Good Lord will provide". Thankfully, we haven't been let down yet! Time to get Year 4 underway.
John Eager is Principal of WinAbu Consulting. We are 3.
Published on LinkedIn on 3rd April 2017.
Written by: Winabu
Date: July 24, 2017