WinAbu's John Eager mentored in KAUST's REVelate Programme in Saudi Arabia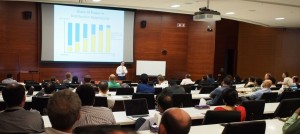 May 2015, Saudi Arabia – John Eager, Principal of WinAbu Consulting, completed his 3rd International Mentor assignment as part of KAUST's REVelate programme.
KAUST is the King Abdullah University for Science and Technology – the leading university for advanced education and scientific research in the Kingdom of Saudi Arabia. Its New Ventures and Entrepreneurship program is focused on spurring start-ups and economic development within the Kingdom.
KAUST launched the first 'homegrown' corporate innovation program in the gulf region this year. The program, REVelate, is aimed at mid and senior management of Saudi-based companies, to help create an 'intrapreneurship' culture that can benefit corporate innovation in the Kingdom of Saudi Arabia in a range of different industries. It combines elements of new venture creation and incubation of new ideas and inventions, while also delivering executive education in innovation, creativity and entrepreneurship.
John participated as Mentor to the corporate teams, and presented on Finance, and Start-up B2B Sales & Marketing topics during the programme. Through the Entrepreneurship Centre,  John was also able to consult with many of the cohort of start-up projects that the centre is supporting currently.
More images from KAUST:
Written by: Winabu
Date: June 3, 2015